Fungal and mycotoxin contamination are among the main food safety concerns globally. Most of the prevalent detection methods can only be used under laboratory conditions. Increasing end-user demand is observed for a portable, multifunctional rapid method that allows on-site measurements as well.
The EU-funded research project PHOTONFOOD therefore aims to develop devices for on-site detection of contaminations based on the users' needs. The aim of this survey is to map the weaknesses of the current methods in the field of mycotoxin testing and to identify the preferred directions of innovation.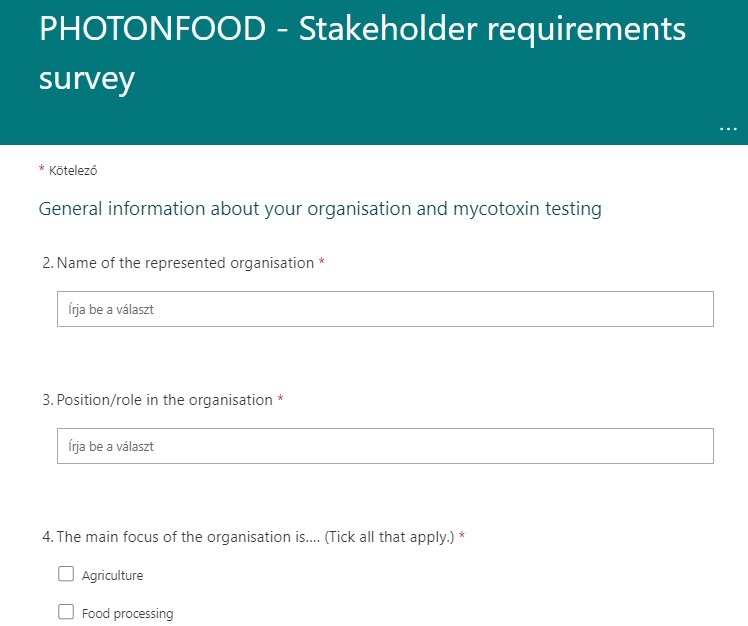 We would be grateful if you could fill in or forward the survey link to the right person in your organisation. By participating, you will contribute to define the stakeholder requirements in the field of mycotoxin testing and promote the development of a novel, photonics-based device.
Participate in the survey now.
After filling in the online survey, we will contact you for a short interview by telephone or online platform (approximately 20 minutes) to gather further information about the current methods and the prospective ways of mycotoxin testing. We will also be happy to provide the report including the results to you if you are interested.

If you would like further information regarding the project or the survey, you are welcome to contact Gyula Kasza ([email protected]).