At the Rapid Methods Europe conference in Amsterdam, The Netherlands, PHOTONFOOD organised a session on Advanced Photonics for Food Safety and Testing. Together with other members of the European Cluster of Research projects for Environmental and Agri-food Monitoring (ECREAM) and the DigiFoods project, 5 presentations around advanced photonics for food safety and quality testing were chaired by Volha Shapaval from NMBU.
Two presentations by ECREAM partners performed by Alessandro Giusti and Stefano Toffanin were on novel multi-analyte plasmo-photonic sensors for rapid on-the-spot food quality and safety sensing. The session has a nice complementarity between ECREAM and PHOTONFOOD partners as various technologies distinctly different from those  developed by PHOTONFOOD were presented.
The presentation by DigiFood was done by Jens Petter Wold and it was on a broad application of on-line vibrational spectroscopy techniques for quality control of fish, meat and poultry industry. Several PHOTONFOOD partners are also involved in DigiFood project which is a large Norwegian centre for innovation project for smart sensors for food industry. The DigiFood project has its focus on processing agriculture and aquaculture-based food industry with the main food commodities fish, meat, milk and poultry which is different to food commodities covered by PHOTONFOOD while the developed photonic technology is quite similar.
The session's programme was topped with two talks by PHOTONFOOD members. The main innovations within PHOTONFOOD and the first results achieved were presented by Boris Mizaikoff (Ulm University). Later, Miriam Aledda (NMBU) presented about the application of at-line high-throughput vibrational spectroscopy for source tracking of fungi in aquaponics production.
It was great offering such a broad overview on the latest research in the area to the audience, which was only possible thanks to the collaboration with many other related projects. This session attracted an especially large attention from the RME participants, both, scientists and lab and industry representatives, that indicated a great interest in the new photonic technologies.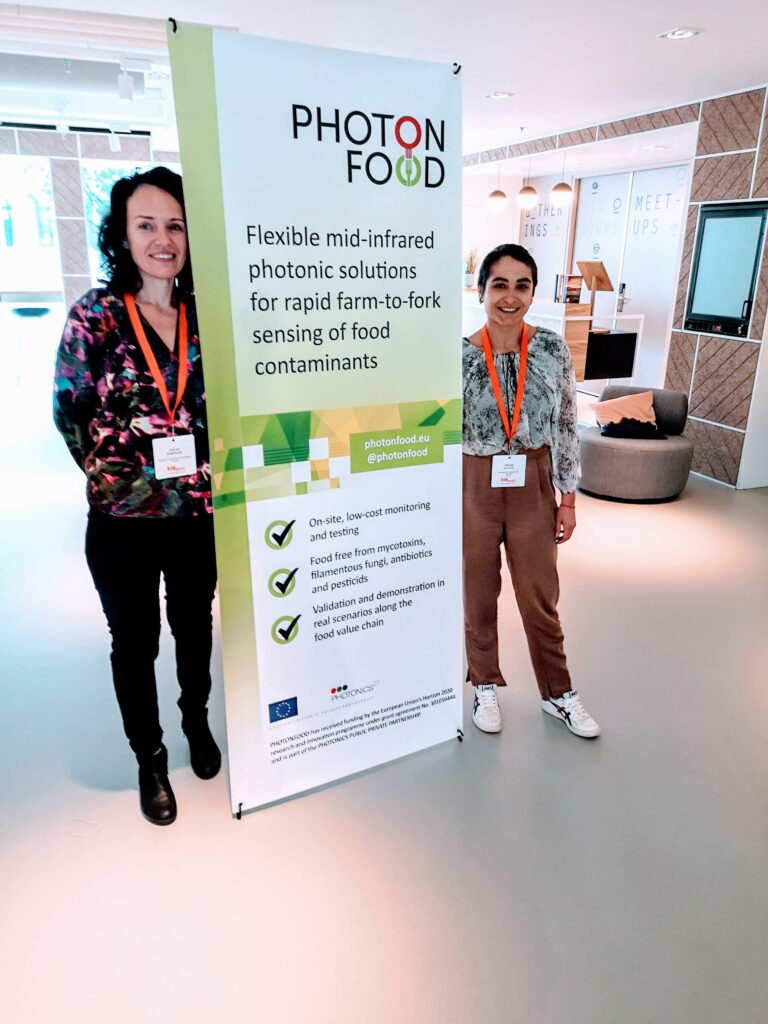 We thank again all speakers for their interesting contribution to the session and the fruitful discussions. We are looking forward to further collaboration.
We will return to RME in the coming years to present new results from the PHOTONFOOD. Keep informed on our conference participations through our news.
Overview of presentations:
M. Aledda, V. Akulava, V. Tafintseva, M. Smirnova, N. Patel, G. Guillaumie, M. De Vos, B. Zimmerman, A. Kohler, V. Shapaval. Vibrational spectroscopy for rapid and reliable source tracking of fungal contamination in food production.
B. Mizaikoff. Flexible mid-infrared photonic solutions for rapid farm-to-fork sensing of food contaminants.